STORAGE
Safe and Secure Storage
McLure has a variety of storage solutions. We offer traditional on-site mini storage in a mix of sizes ranging from 3x3 to 10x30, with heated options, 24/7 gated access, and security cameras for the safety of your possessions. We also offer 30,000 square feet of warehouse space in two locations, with the ability to pack and crate your items for long-term storage. Running out of room in your basement, garage, or shed? Going out of the country? Between homes? Need to store a car or motorcycle for the winter? No matter your storage needs, McLure has a solution.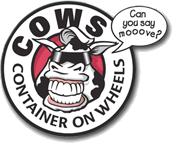 The Convenience of COWS
McLure is now proud to also offer mobile storage in the form of the Green Mountain COWS: Container On Wheels. COWS are an affordable alternative to full-service moving that mix the best of our expertise with your do-it-yourself know-how. COWS can offer a valuable service to home sellers needing to de-clutter their home while it is on the market or to remodelers needing to temporarily store household goods on site during home improvement work. Just give us a call and we'll arrange to drop off a container at your home for whatever period of time works best for you. Then, give us another call and we'll pick it up! You can store COWS on site at your home or business or at our facility.